The alibi agency is headquartered in germany and helps people who are looking for a self-determined life and who want more freedom for individual self-development across national borders. Sometimes this only works if you have an alibi relationship to the outside world, so that third parties finally fail to sniff around with unpleasant questions and wild speculations in one's own private life. Do you know such a situation? Do you feel attracted to this because you too are among the people who are constantly confronted by third parties with annoying questions as to why you are still single? Or do you feel bothered by the wildest speculation about your sexuality because you are never seen in public with a partner? Doesn't an ex-partner accept that it's over? Is a stalker who does not want to accept a 'no' being following you? With the help of our support and a fake alibi relationship, your specific problem can be solved!
What is an alibi relationship?
An alibi relationship is when two people pretend to be in a couple relationship, which does not exist in reality. In this move, both "partners" agree to fake a happy relationship or even a marriage to the outside world.
While both "relationship partners" pursue their own lives independently of each other in everyday life, arrangements are made on the times and in which situations one acts together as a "couple". For example, the alibi couple appears at family celebrations, social events or company celebrations in a familiar commonality and plays a happy and harmonious couple towards the other attendees. Due to some acting talent and a certain familiarity, which develops after a short time, both relationship partners seem very authentic – no outsider comes up with the idea that it is a sham.
Why do people have an alibi relationship?
In most cases, the decision to pretend an alibi relationship is made because questions and speculations by third parties about the relationship life are quite annoying or the homosexuality is to be kept secret by a sham. An agreed shaming – please do not confuse with the shame- is also carried out if one
A stalker
A stalker
An ex-partner
An ex-partner
and the person concerned does not want to accept that he or she has no interest in partnering with him or her. With a fake alibi relationship, you unmistakably signal that you are happily forgiven.
In addition, professional reasons are also considered, which is why a relationship is faked. For example, when the company boss invites to a business lunch with an escort and it is known that the entrepreneur attaches great importance to "smooth" family relationships and really expects to appear with a partner or partner. An attractive accompaniment can still be a career booster!
Who can be in an alibi relationship with?
In the vast majority of cases where single women or single men feel the need to have an alibi relationship, the desire for a fake partnership comes from only one of the two people. She is looking for a sympathetic man or an attractive woman, either in her circle of friends or through our professional agency, who takes on the role of life partner or partner.
Fake relationship with a person from the circle of friends
It is not uncommon for a gay man to ask his best friend to accompany her as a permanent partner to the next family celebration or business meeting. Likewise, lesbian women ask the best buddy to appear as a firm relationship partner on an official occasion in order to put an end to the speculation about their own sexuality – or not to let it germinate at all.
This can work and go well over a long period of time. However, there are also serious drawbacks to name when you encourage someone from the circle of friends to fake an alibi relationship. At the latest, when there is a break in the friendship, you run the risk that the scare will fly or that you will even make yourself blackmail able. Even a small dispute among friends can be enough for the "accomplice" or the "accomplice" to threaten to let the fake relationship fly.
There may also be other problems. For example, if the other person is in a relationship himself, suddenly for personal or professional reasons no longer has time to step in as an alibi partner or the person is suddenly plagued by bites of conscience. For pretending to be an alibi relationship is like a life lie.
It can also happen that intersections arise and someone from his own professional or private environment knows the apparent relationship partner. Then there is the danger that the shoal will fly up and the alibi pair will be exposed. Even after many years, the fake relationship can be betrayed because one of them is doing something wrong in a careless moment or forgetting in an unfavorable moment that they gave themselves a relationship alibi years ago.
Better is a professional alibi partner
The best solution is therefore to seek professional support if you want to fake an alibi relationship. This way you can ensure that it is a pure service that is paid with the agreed fee. This has numerous advantages over agreements you make with a private individual. Here are some examples of why you're better off using our professional alibi agency to hire a swarm:
The alibi relationship is based on clear, as well as binding agreements and rules.
Commissioning an alibi partner is a service that is handled professionally – regardless of personal affections or dislikes. Our employees are experienced Alibi giver and know exactly what to look out for so that no alibi bursts. Men and women who can book you through our agency as an alibi partner work professionally and guarantee absolute confidentiality. All employees and partners of our Alibi Agency are committed to confidentiality. Discretion and confidentiality apply in principle even after the completion of the order!
We only provide professional alibis who do not come from the same city as our clients. In this way, we ensure that there are no personal intersections between customers and employees.
It is easy to end an alibi relationship without interpersonal problems or to arrange a new engagement with another employee of our agency.
After completion of the respective order, you and the service provider commissioned by us go their separate ways – without any complications! You don't have to worry about you being a person's best for life – by paying the fee, the order is done and paid.
This makes it possible to lay the cover of silence absolutely reliably and permanently through the agreements reached. You don't have to worry about whether anyone ever learns that the fake alibi relationship was a sham.
How does an alibi relationship work?
The involvement of the group is clearly regulated and binding agreements are made as to when and to what extent the partnership is faked. If you commission an alibi relationship through our agency, you will discuss individually with the factual relationship partner on which occasions you want to appear together with your partner.
In direct talks with your relationship partner, you discuss when, where and in what form you want to appear as a happy couple to third parties and how intimately you give the best of your fake relationship in front of your family or professional environment.
Your fake girlfriend or your fake friend accompanies you, for example, depending on your specific needs…
To the cinema
To the theatre
On a city walk
To a folk festival
To a family celebration
To a company event
To an exhibition or vernissage
For dinner in a restaurant
To a party in the circle of friends
On short trips on holiday
It is easily possible to book the alibi partner only for a one-time occasion or several times. In addition, you can also book an alibi relationship over a longer period of time if – for whatever reason – you want to fake a permanent double life for your family, social or professional environment.
In addition to the alibi relationship, we are also happy to support you in other matters. If you want to prove your fake relationship as a permanent relationship, we offer many more services for you:
As a professional alibi agency, we create and maintain fake social media accounts for you, with which you can play your involvement to the outside world. We place photos and comments on your social networks, in which you can be tracked together with your partner.
We create professional photo montages on which you and your partner or you and your partner can be seen on their love holidays together.
It is also possible to take a few snapshots of shared leisure activities and publish them either on Facebook, Twitter or ViaSApp to present the fake relationship to the desired environment.
Experienced copywriters create fake posts or romantic messages for your social networks that clearly suggest a happy relationship. If necessary, our authors write romantic love letters or send you small fake love messages on your smartphone, which credibly support your happy relationship and can be accessed in the presence of family members, co-workers or friends.
In addition, it is possible at any time by arrangement for your lover to call you on your mobile phone, send a text message or via WhatsApp a voice message that you read or listen to in the presence of work colleagues or family members and friends. No one will suspect that the loving messages could be fake.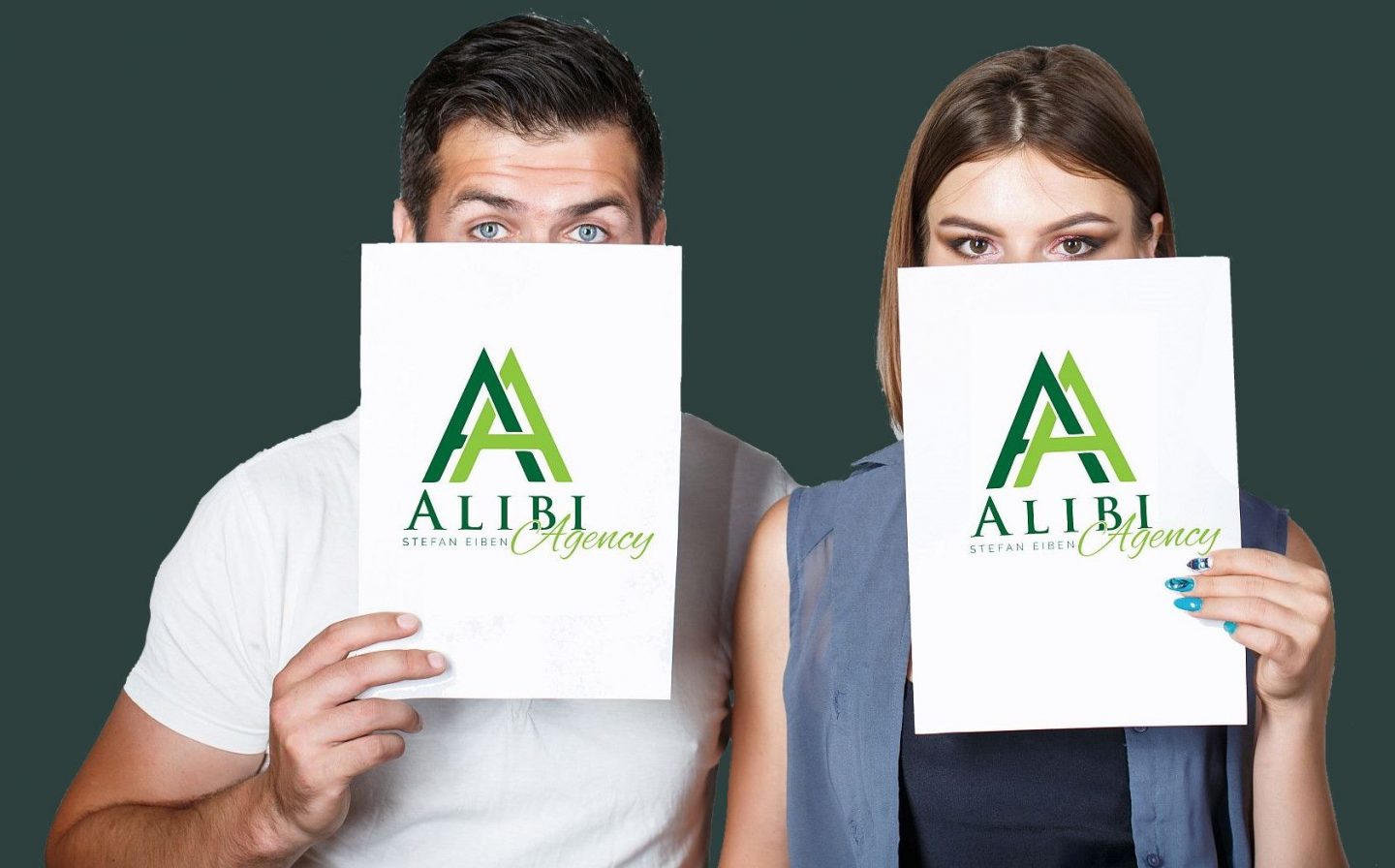 Concrete examples: How we could help people with an alibi relationship
The head of our agency Freiraummanager, the alibi professional Stefan Eiben, looks back on many years of agency activity and knows exactly what a waterproof alibi is all about. Under his leadership, we have already been able to help our clients out of sensitive emergencies in countless cases or to help them create more freedom in life. No matter in which situation people entrust us, we find individual solutions for every sensitive or explosive matter! Promised!
In the following, we would like to give you some examples, on the basis of concrete orders, how the agency Freiraummanager could help people to make life more beautiful and happier by means of a sham or fake marriage.
Inclusion & Alibi Marriage because of homosexuality
One of the most common reasons people turn to us is their own homosexuality, which must be concealed for private, professional or social reasons. Although tolerance is preached and demanded everywhere in this day and age, reality shows that society is not as tolerant as it is desired: gay men and lesbian women continue to experience exclusion and disadvantages in their profession and also in terms of social life.
If it is known that a man or woman is gay, this can lead to professional disadvantages or exclusion. But also in other matters, e.g. in the search for housing, a disadvantage is to be expected. Not to mention the problems that can arise within the family as a cause of homosexuality.
It may therefore be the better way to fake a heterosexual relationship to the outside world in order to avoid various complications. A good example is the search for housing. If a same-sex couple goes to the apartment, the gay couple can be absolutely sure that the question arises whether they want to move into the apartment together. An honest answer to this question almost always leads to rejection by the broker or landlord. This is different when a heterosexual couple visits an apartment. It is therefore a good place to hire a friend to visit an apartment in order to fake a "normal" relationship and to secure better chances when looking for a flat.
Those who prefer to appear alone and as a single person out of shame or fear of disadvantages caused by the same-sex lifestyle in public are regularly confronted with indiscreet questions and conjectures. Society seems to expect men and women to enter the port of marriage from a certain age, but at least to be in a stable partnership and to have the intention of starting a family.
On the part of the family, the work colleagues and often also from the circle of acquaintances, the curious questions about the relationship status do not last long either. If you are affected by this, you can put an end to the annoying interrogations once and for all by pretending, like many other clients of our alibi agency, a relationship with appearances. Present your social environment and your relatives with an attractive partner or a great man by your side – there is peace!
As a public person, lead to involvement
If you are the public figure, you may also be subject to constant speculation about your private life or the stalking by fans and the press. It is by no means uncommon for politicians, actors, singers or other celebrities to take a in order to keep the real relationship partner out of public life on the one hand and to keep one's private life secret from the public. In our employee file we list men and women of all ages who you can book for an alibi relationship. Choose a suitable person to accompany events to lure the press and intrusive fans on the wrong track with the mysterious companion.
Draw a line with Alibi Relationship
Falling in love is a beautiful feeling and most people long for a happy relationship. When you meet an attractive person, the butterflies soon flutter. However, not every relationship lasts forever.
After the phase of the pink glasses has passed and the relationship has broken down, the separation is carried out. Or you are in a relationship in which you have lived apart after a certain period of time and separated from your partner. But the ex does not want to put up with the relationship-break-up and still has hopes that one will find one again as a couple. For the relationship partner who has decided to end the relationship and turn his back on the partner, this is usually out of the question.
However, in such a situation, many abandoned ex-partners do not let up. They ask for another last conversation, send flowers or other gifts and suddenly appear wherever you are.
In such cases, an alibi relationship can help the person finally understand: it's over once and for all. You are currently in a complicated separation situation and your ex or ex is your ex can't or won't accept the relationship, play a new relationship to the person with our support. With us you can rent a girlfriend (internal link) or a friend (internal link) – at short notice, for a few hours, by day or even over a longer period of time.
Together, we will discuss which strategy is appropriate to solve the problem. For example, we organize "random" meetings where the other person sees you together with your new relationship partner in the cinema, in the bar or at events. He or she perceives you both as a couple in love.
At the same time, we offer you help with separation if you want to end a complicated relationship. For more than 20 years, our agency, under the leadership of alibi professional Stefan Eiben, has been able to solve even the most difficult situations and create a way out. Often an agreed phone call from one of our trained employees with the ex helps to talk calmly about the separation and to explain again the position of our client.
Such a difficult phone requires sensitivity and empathy. But experience shows that when an outsider switches in between and talks objectively about the separation and the current situation, the person usually realizes very quickly that it is pointless to have further hopes. As a rule, the abandoned ex-partners then also distance themselves and accept the separation.
Get rid of Alibi Relationship Stalker
Most women and men have experienced it before. You have met once and while it is clear to yourself that you do not want anything from the other person, they do not give up hope that you will still come together. The former flirt partner becomes a stalker and just doesn't let up. Persistent stalkers do not shy away from persecuting the victim of their desire and crossing borders.
It can be extremely helpful to fake a real partnership or marriage. Similar to the separation situation, we provide you with a man or woman so that you can play a happy relationship to your stalker.
In addition, we are happy to advise you on what further measures are possible to get rid of the stalker. In the course of our more than 20 years of agency work, we have been able to help many people who were in such a distressing and not entirely harmless situation. With our experience, we manage to end harassment by stalkers in almost all cases after a short time – because most stalkers refrain from stalking as soon as they realize that stalking is observed by third parties.
Many problems can be solved with an alibi relationship
The previous examples have shown you some examples of the complicated situations in which inclusion can make a significant contribution to finding a way out or to protect one's privacy. Do you miss a solution to your specific problem? Do not hesitate to contact us – we will not let you down and will always be at your side with individual solutions and creative ideas. Find out more about the other options now or book an alibi relationship. Contact us via WhatsApp, signal app, phone or email.